ELA/ Extended Learning Area
Gives Students the opportunity to continue collaborating and working
outside of the classroom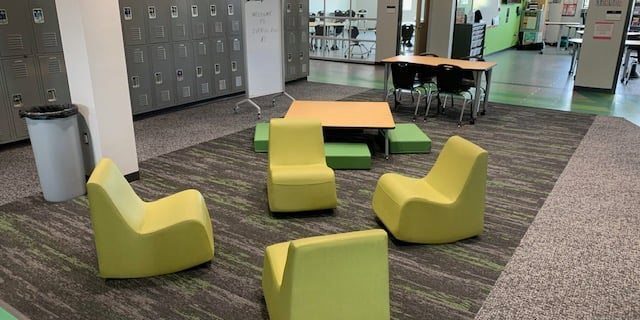 Today's style of learning has changed over the past decade.  The traditional classroom set-up consisting of desks and chairs lined up in rows has become a thing of the past. One of our recent blogs highlighted movement in the classroom and this would apply to our newest blog topic of Extended Learning Areas outside the classroom.
ELA's or Extended Learning Areas are instructional spaces or "breakout" spaces designed to provide places outside of the classroom where students can work collaboratively or individually on ideas presented in the classroom.  Teachers often take smaller groups of students to these flexible areas for small group activities, as well.
The ELA spaces contain furniture that is flexible and comfortable allowing students to work in a relaxing atmosphere.  Similar to media centers over the past 20 years, ELA spaces can often include various types and styles of soft seating and lounge furniture such as sofa pieces, soft guest chairs, seating with movement, bean bag style furniture as well as mobile tables / media tables.  Students using the area should be able to gather in groups or have individual seating, so they can discuss what they are working on, or complete an individual project away from the classroom.  However, students are still close enough to the classroom so that teachers can supervise their work.  These areas work best with the use of soft seating, along with café height tables and or low height tables, as shown in the picture. It is important to remember that the space will be used in many ways and by a variety of users, so choosing furniture that is flexible is key. This type of area brings the learning outside of the classroom, encouraging cooperation and collaboration.
Most newly constructed buildings offer ELA spaces within their building.  Older buildings are incorporating ELA spaces into their libraries / media centers.  Our experience, is that architects are also starting to include these spaces in their new build designs.